I'm going to do a series of recaps--I really like how easy they make it to look back on my two week European trips. My very first trip abroad was to the UK and Ireland--a trip that had been a dream trip of mine. We went on the 10 day essential Britain and Ireland.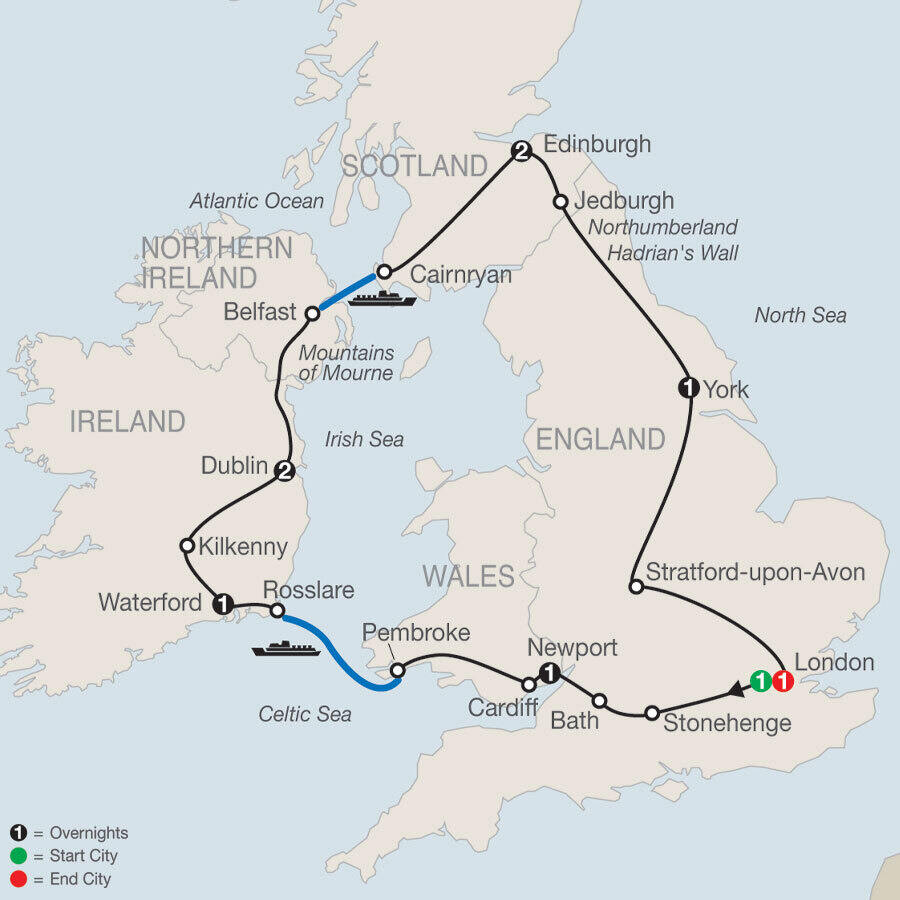 (this is the only map I could find--we did not stop at Kilkenny--we stopped at Avoca and Glendalough)
We added a couple of days before and after the Globus trip we choose to spend time on our own in London.
1.
A Journey to Kensington Gardens, London
We arrived in London, and after a quick trip on the Heathrow Express (followed by a short walk) we were at our hotel. We headed out to Kensington Palace, where we had afternoon tea in the Orangery before touring the Palace.
2.
Westminster
A morning visit to Westminster Abbey followed by a walk up to Trafalgar Square.
3.
Walking through "The City"
We took the Tube to St. Paul's Cathedral then walked up to see the Tower of London before taking the Tube back to our hotel to meet up with our Globus tour group for dinner followed by a cruise on the Thames.
4.
Stonehenge, Salisbury, and Bath
We started with a visit to Stonehenge before visiting Salisbury Cathedral on our way to Bath where we had time to see the Roman Bath before crossing over to spend the night to Wales.
5.
Cardiff, Wales to Waterford, Ireland
We woke in Cardiff and, a short bus ride later, we were at Carlisle Castle for a tour, before heading to our ferry to Waterford.
6.
A Day in Ireland
We started our first full day in Ireland with a visit to the Waterford factory then boarded the bus to travel to the Avoca Mill to see how a hand-weaving mill works before heading to Glendalough to see Monastic ruins. That night we arrived in Dublin.
7.
Dublin to Belfast, North Ireland
We wandered around Dublin, including seeing the Book of Kells at Trinity College. The next day was mostly a travel day, with a very brief stop in Belfast with just enough time for a (very fast walk to see a few sights) before driving on to ferry to Scotland.
8.
Fancy China and Edinburgh
We visited Edinburgh Castle before walking down the Royal Mile, stopping in St. Giles Cathedral before heading down to Holyroodhouse Palace.
9.
Walking in the Shambles
We crossed over from Scotland to York, where we wandered up to York Minster.
10.
Tea in Stratford-upon-Avon then back to London
Our last stop started with Shakespeare--the tour took us to see Anne Hathaway's cottage in Shottery (Anne Hathaway is Shakespeare's wife), then a visit to Stratford-upon Avon, Shakespeare's birthplace, with a stop for tea. Next we traveled back to London and said goodbye to the group before dashing to the British Museum and ending the evening with a ride in the Eye of London.
11.
Hampton Court Palace
We started the day wandering through St. James Park to Buckingham Palace to see the changing of the guard. Next an easy (and quick!) train ride to Hampton Court Palace (in the borough of Richmond), a former palace of Henry VIII.
12.
Highgate to Windsor
We started the morning taking the Tube to beautifully overgrown 19th century Highgate Cemetery, then a train to Windsor with just enough time to see the castle.
Review: This Globus trip is definitely just an overview and two days were spent primarily traveling (the two ferry days). But really, I don't regret choosing this trip just to get a taste. I know that I'll get back at some point to see each country more in depth. I definitely recommend adding time in London.